Details

Written by

Carol Surges
Having a long term relationship with textiles and loving their tactile nature my ears perked up recently when Kathy Willmering predicted that textile related jewelry will be the next wave on the beading scene. I'd recently discovered the combination of soutache and beads and was fascinated with the results. While soutache itself, a skinny little woven ribbon that is typically used to add flourish to uniforms, high-end garments, and jewelry, has been around for centuries it hasn't been seen much in the States for some time. European jewelry makers however, have been carrying on the tradition. If you aren't familiar with this growing craft, it's reached our shores now and there are plenty of resources to bring you up to speed. Let's take a look at two of them.
The first book to appear was Anneta Valious' Soutache: 30 Gorgeous Bead Embroidery Designs (Lark Jewelry and Beading, 2013). (You can find it in the LBS Library.)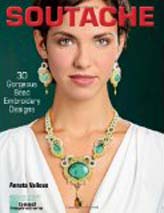 Valious is a self-taught beader with a strong textile background. Somehow, she didn't discover beading until she purchased a beading kit for her young daughter. The rest, as they say, is history and history is how Valious opens her book, giving an illustrated chronology of the braid or trim as soutache is often called. The traditional overview of materials and tools comes next followed by a section with detailed instructions on specific aspects of the technique. The 30 projects that make up most of the remaining pages apply those techniques and progress rapidly from a few simple bracelets and earrings to more complex brooches, pendants and necklaces. The instructional sections go step-by-step and include close-up photos that help clarify the text. The lists of supplies needed for each project are easy to decipher thanks to the extra space and lines separating each item. A gallery of stunning samples from a variety of artists ends the book.


In 2014 Kalmbach Books published Soutache & Bead Embroidery by Amee K. Sweet-McNamara.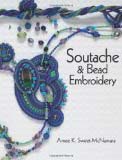 Her book begins with a description of necessary supplies followed by step-by-step instructions on soutache-specific techniques that are used throughout the book. The techniques are in alphabetical order making them easy to refer back to. The 18 jewelry projects are in three distinct sections and this is where Sweet-McNamara effervescent personality shines through with terms like 'eskimo shoe', 'koala face', 'harp' and 'lily' are used to describe the foundation shapes in soutache jewelry. Projects in section one focus on one basic shape at a time: a bracelet of 'koala faces', princess earrings using the 'eskimo shoe', or a necklace that incorporates the 'lily' shape. The second and third sections advance the skill level and incorporate more beading elements like cabochons and rhinestone chain into the basic shapes or their variations. They also show how to keep soutache jewelry appearing light and airy. The closing 'Author's Gallery' shows 16 more Sweet-McNamara pieces.
At first glance, the end results in Valious' and Sweet-McNamara's books look the same, but there are differences. Sweet-McNamara always uses a brick stitch to secure the ultra suede backing and finish off her work. Valious, on the other hand, never takes this extra step. Valious recommends making a paper pattern of the jewelry's shape before cutting the ultra suede backing. She also fills in depressions on the back of pieces with stuffing. For pendants and brooches, she advises a liner of cardboard or plastic for stability. Sweet-McNamara never mentions these issues. Other than that, both authors do a good job of explaining the process and I would recommend either of these books to a determined beginner. One word of caution: reading through their introductory directions before beginning this exciting technique is critical. Jumping right into a project may lead to frustration and disappointing results.

Give soutache a try, and see if you agree with Kathy that textile jewelry is the wave of the future.
 
Sweet-McNamara, Amiee. Soutache & Bead Embroider. Kalmbach Books. 2014.
Valious, Anneta. Soutache: 30 Gorgeous Bead Embroidery Designs. Lark Jewelry and Beading. 2013.
More resources:
Sweet-McNamara, Amiee. Soutache & Bead Embroidery: Three Basic Shapes. BeadSmith. 2012.
Soutache Made Simple: Learn How to Do Soutache. On-demand web seminar. Interweave. http://www.interweavestore.com/soutache-made-simple-learn-how-to-do-soutache