January 20, 2015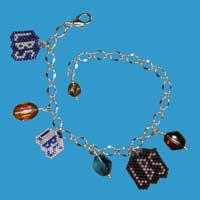 "It's a Charming Year" kicked off with Cindy, the new Program Chair, giving an overview of the year before launching into an explanation of the charm of the month. An odd-count Peyote charm with the LBS acronym embedded in the beads would be the end result with printed directions and a 9" chain with lobster claw clasp provided to all paid members. She used the library's projection system, explained how to use YouTube and then shared a video that showed how odd-count Peyote is done.
Directions for January's LBS charm are here.
Here's how Cindy's bracelet looks so far. She suggests adding your volunteer crystals to the chain and changing the lobster clasp if you like a different style.