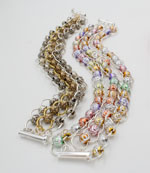 Brookfield Public Library November 13, 2017 by Pat Harvey, Community Service Coordinator

Our class at Brookfield Public Library was a great success. We had 19 students, including our library contact, who took attendance and then wanted to stay and make a bracelet. We got a lot of positive feedback from the students. We are negotiating an additional class in Spring 2018.
Many thanks to the LBS volunteers: Maureen Bartz, Lorene Dalsant, Deb Dunn, Shirley Fishman, Amy Thomas, Kate Van Eyck and Suzanne Wegner.
If you would like to volunteer for the next BPL class, e-mail me at communityservice@loosebeadsociety.org and I'll put your name on my mailing list.