Details

Written by

Carol Surges
The Diane Fitzgerald weekend began Friday night with a free lecture. Members showed up early at Helfaer Hall at Mount Mary University to shop Diane's books and kits but also to catch up with friends.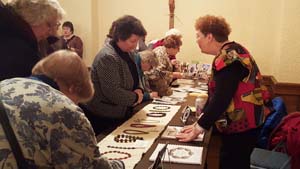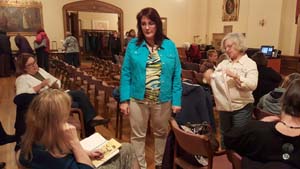 Kathy Willmering, who was instrumental in getting Diane to Milwaukee, introduced the speaker.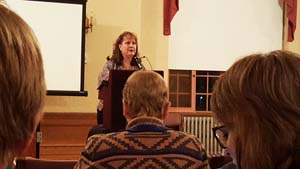 Diane describes herself as a collector, creator, teacher and writer. For more than an hour she covered the history of beading which is long and varied. The images she shared came largely from her private bead collection many of them found at flea markets. From that perspective, she encouraged beaders to sign their work whenever possible for future collectors.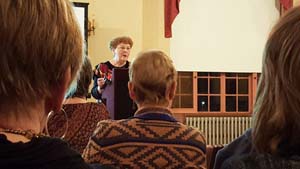 The talk began with the earliest known beads but when Diane got to the 20th century, documentation became better. Mary White's How to do Beadwork, 1905 is probably the first bead book written and Dover has reprinted it. As she worked her way through the decades of multi-strand crystal beads, love beads, and brick-stitch duster earrings, many of the members were nodding their heads in recognition. In 1992 Catherine Moss' and Alice Scherer's book The New Beadwork put beadwork on the map and it was around that time that Diane was becoming more involved in writing and teaching. In 1994 she and Helen Banes published Beads and Threads which showed how to make woven bead 'bibs'. Other influential names she mentioned included Horace R. Goodhue who wrote Indian Bead Weaving Patterns, Miriam Haskell, Julia Pretl and Nichole Starman. Diane closed her talk on an upbeat note, asserting that beading has taken tremendous steps forward since the 1990s with multiple hole beads and three dimensional forms now the norm.

The rest of the weekend was filled with four half-day classes. They were all held at Mount Mary and each one brought a full room of attendees with several people signed-up for all four.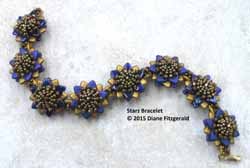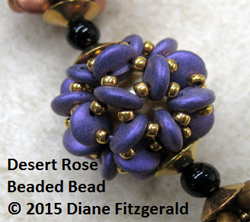 Here are a few photos from two of the classes:
Bells of Ireland Necklace or Bracelet (a spiral rope variation)

And the Desert Rose Beaded Bead Necklace

Diane also gave attendees to the lecture and her classes two free earring patterns. Here is what they look like – front and back: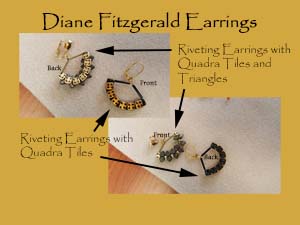 There was one correction on page one "Riveting Earrings with QuadraTiles and Triangles".
At step 2 add the underlined words: "Pass through QT-1, add 1 SB and pass back through the same hole. Add 1 SB and pass to the front through QT-3.