Retreat 2016 - March 18 - 20 - Harbourwalk Hotel, Racine, Wisconsin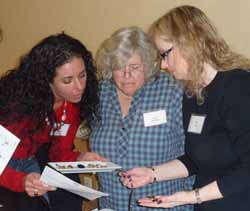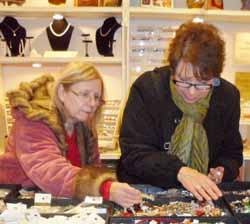 Click below for:
Lunch Options Past deadline. No more choices.

Open beading will begin 9am Friday and continue through to 5pm Sunday in the Harbourview Room.
---
For class details, fee and supply lists, click photos below:
Friday, March 18 -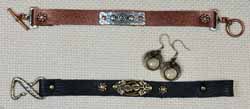 Riveting Make-n-Take at Funky Hannah's FULL
The gals at Funky Hannah's will share with you some great designs and components created by our friends at TierraCast! You'll learn to create your own riveted earrings and bracelet in this quick, easy and fun Make-n-Take. Loads of samples will inspire you to fall in love with riveting leather and metal.
---
Saturday March 19 -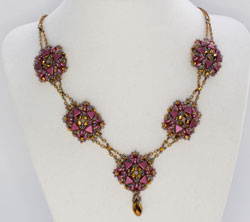 My Fair Lady Necklace FULL
This necklace is made with the new Kheops Par Puca beads. You'll create components that are connected with chain. Thunder Polish beads add a little sparkle for a nice dimensional look.
You can view the colorways on Renee's Facebook page
https://www.facebook.com/Elegancebyrenee?ref=aymt_homepage_panel
Click the "MORE" tab, then click the "EVENT" tab.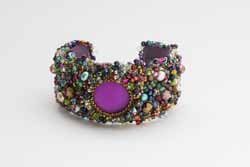 Bead Soup Embroidered Cuff
Create a bead embroidered cuff over a brass blank using a variety of beads in a freeform layout. You'll learn how to size around a brass blank and a backstitch technique using odd bead sizes.

Wrap It Up Bracelet
Make components using two-hole Silky beads and crescent beads, and embellish them with seed beads and crystals. Connect them for an elegant looking bracelet.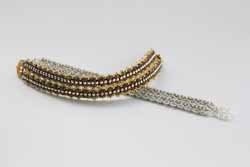 Renee's Tennis Bracelet FULL
Be ready to be wowed! You love bling? Well here it is! The crystal cup chain will be sure to sparkle enough that you may need your sunglasses! This is a versatile pattern; you can either make a single-wide or a double-wide bracelet.
You can view the colorways on Renee's Facebook page
https://www.facebook.com/Elegancebyrenee?ref=aymt_homepage_panel
Click the "MORE" tab, then click the "EVENT" tab.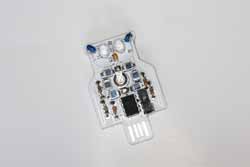 Twinkling Electronic Jewelry (Lumen Electronic Jewelry)
Learn to solder your own twinkling LED jewelry pendant, powered by the sun. No batteries required, it charges itself and blinks for several hours after dark. Students will make the Owl in class. All materials provided, all you need is a steady hand and a willingness to learn. Most students will finish the first kit in two hours and are welcome to purchase and assemble a second. Four kits available at discounted price for LBS members: Owl, Fox, Skull, and Heart.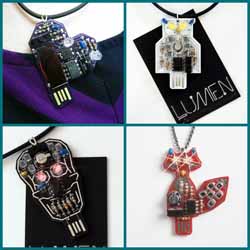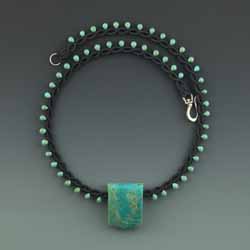 Gemstone Nugget Necklace FULL
Make a dramatic, curved gemstone nugget necklace using Kerrie's Circle Tool Attachment (included in your kit) for the AnyAngle Micro Macramé Board. You will make a chain of linked drop beads that complement a centered gemstone nugget.
After you register for this class, please go to Kerrie Sue's website to select your specific nugget:
http://interlacedesigns.com/workshops/gemstonekits/index.html


---
Saturday evening, March 19 -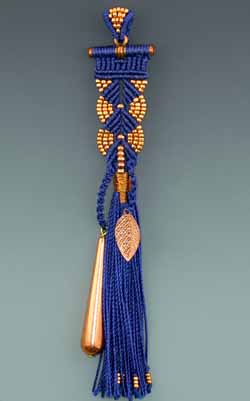 Toggle Tassel Pendant
Learn how to transform part of a vintage 1860s macramé pattern for a men's cravat into a pretty tassel pendant. We'll use a copper toggle bar for the foundation, macramé our own bead canoe bail, and add some sparkle with metallic thread, copper charms, copper beads, and Duracoat metallic seed beads.
---
Sunday, March 20 -

Fairisle: Zig Zag Dash Bracelet FULL
Students will learn how to read a peyote pattern and stitch two different peyote stitch panels. This design is worked in Delicas and the beads snap together so nicely. Students will combine panels of multi-color combos into a band style bracelet. The outcome will be as varied as the individuals in class; no two will be the same! Optional embellishment ideas will also be covered. This is an excellent class for a beginner wanting to learn how to read a peyote pattern or for the intermediate/advanced student wishing to expand their knowledge.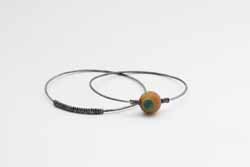 Introduction to Soldering FULL
We will explore soldering on steel. The technique is identical to all other metals (i.e. silver, copper, brass). We will make a bangle bracelet which can be embellished with beads. Bring a bead, if desired. After the initial presentation, students are free to make as many pieces as time allows.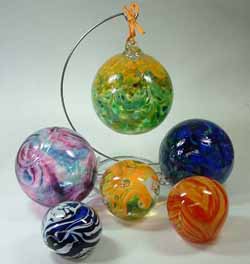 Explore Glass Workshop at Hot Glass Shop FULL
Create your choice of a beautiful glass ornament or paperweight. A perfect introduction to working with hot glass.