2014 Spring Bead-In
Saturday April 5th, 9:30 - 4:30 Muskego Public Library. See calendar for directions.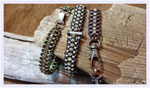 Join Becky Guzman for her Glamour Bracelet cupchain class. (Optional) $40.00 registration fee.
For further information and registration information for both the day and Becky Guzman class click here.
Note: Lunch is extra and optional.
Registration forms and fees to Carol Haiar by March 28th.